The Raconteur Daddy and I have finally moved closer to where we both work. It has been a long year of transition for our family (which I will talk more about later). To help celebrate a new place to live, I found a great company to help make our little apartment feel more like home.
Dali Wall Decals
provides removable wall decals. They have a large assortment of designs and each in a huge selection of colors. They can also take a picture and turn it into a personalized decal too!
I had a lot of fun browsing their website. My favorite areas were the
$10 specials
and the
shapes
. I love how easy their site is to navigate. You can select to browse by price or product. They have everything broken down into easy to find categories on their sidebar. Then when you make your selection, you can choose from many colors. The list of colors is on a tab above every picture so it's easy to find to make your choice.
I was so excited once everything came. I was really surprised at how easy it was to use. The directions that they send along are fool proof. I think it took me 8 minutes to level and put up our monogram. Here is a step by step pictorial for you all.
First I picked my spot. Then I removed the film from the sticky side of the decal, leaving the contact paper that the decal is attached to. There are lines on the contact paper that make it easy to make sure that it's level. So I made a short line with my level with a pencil on the wall and then I lined up the lines on the paper to it.
Next, I smoothed it out with my hands. Then I used the handy plastic smoothing tool provided by DaliDecals to smooth down the decal and get the air bubbles out.
Then I removed the contact paper slowly by pulling it flat against the wall, corner to corner.
Then I smiled because it was that easy. (I didn't realize The RacDad took a picture of that.)
This is the first thing you see when you walk into our apartment. What a lovely way to be invited into a home.
The only complaint that I have is that one of my selections didn't come like I had expected. I loved the
ornate swirls
. I was even more excited that it came with 6 of them! Well, that wasn't really the case. The picture didn't show what it actually was and the description was vague. The picture shown is actually the six swirls put together to make two designs. I thought it was going to be six of the designs shown in three different sizes.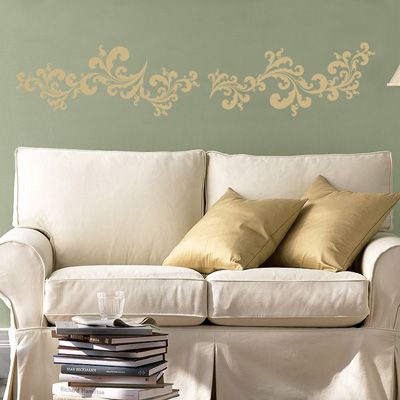 Picture shown on the site.
What actually came.
I still like them. It's not such a big deal, but I had planned where I was going to put everything before it came. So, now I have to figure out where I'm going to put them because it just won't work where I intended. Since we are still unpacking and getting settled, they will be my last little flair to add to the wall. I think I'm going to use them as accents around my pictures that I plan to hang in my bedroom.
All in all,
Dali Wall Decals
was wonderful to work with. They shipped quickly and their customer service was really nice. I love the idea of being able to decorate my walls in my apartment and not have to worry about it being permanent. I will post (in about a year) about how easy they are to remove.
DaliDecals has so generously offered one lucky reader a $25 gift certificate to use at their online store!
They are also providing ALL of my readers a wonderful 5% off with no minimum purchase.
Just use the code: Trophy5off
a Rafflecopter giveaway